Welcome to our product launch! We're excited to introduce our latest innovation that we believe will revolutionize the market. Thanks for joining us, let's get started!
If you're looking for a stylish and practical addition to your dining area, look no further than the White Boucle Fabric Thick Padded Dining Chair.
With its innovative design, comfortable seating, and easy-to-clean material, this chair is perfect for long meals and gatherings with friends and family.
The boucle fabric adds texture and interest to your decor, while the thick padding ensures maximum comfort.
Plus, its sleek and modern design means it can fit seamlessly into any dining space.
We're thrilled to introduce our latest addition to the furniture family - the luxurious Velvet Swivel Dining Chair. With its lavish velvet interior and minimalist design, this chair provides both style and functionality.
Featuring a 360-degree swivel seat, this unique chair allows for unrestricted movement and easy communication with others. And with its ultra-thick sponge filling, the chair offers incredible comfort and support, making it the perfect spot to unwind after a long day. chair allows for unrestricted movement and easy communication with others.
Our design philosophy centers around simplicity and luxury, with sleek lines and plush velvet making for a truly sophisticated look. The minimalist armrest design also ensures that this chair won't take up too much space, allowing it to blend seamlessly into any room.
Upgrade your dining experience with the Velvet Swivel Dining Chair - the perfect combination of practicality and luxury.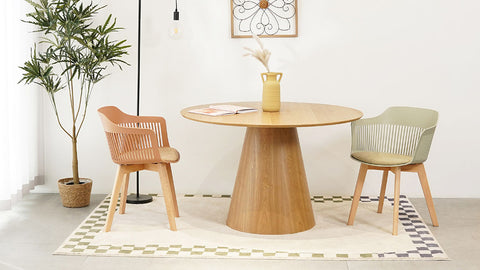 Plastic chairs have come a long way since their humble beginnings as simple outdoor furniture. Today, they're a popular choice for a variety of settings, from homes and offices to restaurants and cafes.
Versatility: One of the biggest advantages of plastic chairs is their versatility. They come in a wide range of designs, colors, and materials, making it easy to find a chair that suits your taste and budget.
Durability: Another benefit of plastic chairs is their durability. They're lightweight yet sturdy, making them easy to move around while still holding up to frequent use. Plus, they're easy to clean and maintain, so you don't have to worry about spills or stains.
Affordability: Plastic chairs are also incredibly affordable, which is great for anyone on a budget. Whether you're outfitting a whole room or just need a few extra chairs for guests, plastic chairs are a cost-effective solution that doesn't sacrifice style or comfort.
Thanks for attending our product launch event. We hope you're as excited about our new  chair series as we are. Keep an eye out for more updates from us soon!